3 Stocks to Buy as Inflation Backs Off
Source: SERSOLL / Shutterstock
Inflation in the U.S. peaked at 9.1% in June 2022. Since then, it has backed off considerably and currently sits at 3.2%. While the inflation decline has been considerable, consumer price increases remain above the 2% annualized target set by the U.S. Federal Reserve. Fed Chair Jerome Powell made clear at the central bank's recent summer meeting in Jackson Hole, Wyoming, that he is prepared to further raise interest rates, now sitting at a 22-year high, to push inflation back down to that 2% goal.
However, markets are increasingly looking to a future where inflation falls further and interest rates have peaked. Futures traders are now betting that interest rates will start getting cut by the Fed in spring of next year. The fall in inflation, and subsequent decline in interest rates, should benefit all stocks, though some are likely to benefit more than others for a variety of reasons. Here are three anti-inflation stock picks to buy as inflation backs off.
JPMorgan Chase (JPM)
Inflation, and higher interest rates used to lower it, have been hard on banks. Elevated interest rates prompted by inflation led to a full-blown banking crisis this spring as several regional lenders, including Silicon Valley Bank (OTCMKTS:SIVBQ) and Signature Bank (OTCMKTS:SBNY), failed, requiring intervention by the U.S. Federal Reserve and Department of Treasury to restore confidence in the critically important sector. However, if there's one bank investors needn't worry about, it's JPMorgan Chase (NYSE:JPM) — the largest lender in the world with over $3 trillion in assets.
With inflation now backing off and interest rate increases drawing to a close, there is an opportunity to snap up JPM stock at a discount. While the lender's share price has gained 10% on the year, it trails the benchmark S&P 500 index, which has gained 18% since January. Trading at just nine times future earnings and with a dividend that yields 2.70%, JPMorgan offers good value. The bank also passed the Fed's stress test for financial institutions with flying colors and issued robust second-quarter financial results, making it a solid pick for lower inflation.
Kroger (KR)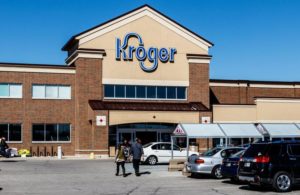 Inflation has put a significant strain on household budgets, especially when it comes to buying food. The grocery category has seen some of the steepest price increases over the last 18 months. Food inflation in the U.S. peaked at more than 11% in August 2022. It has since fallen to a two-year low of 4.9% in July of this year but remains one of the more price-sensitive corners of the economy. With inflation coming down, it should benefit grocery retailer Kroger (NYSE:KR) as consumers buy more food items and cost-conscious shoppers return to its stores.
Currently, as the fourth largest grocery store chain in the U.S., Kroger has walked a tightrope over the past year between managing its own inflationary cost pressures and keeping the prices competitive with discount rivals such as Walmart (NYSE:WMT). It hasn't been easy, but Kroger appears to have weathered the storm and drawn in higher-income consumers to its retail outlets with a popular loyalty program and fuel rewards.
So far this year, KR stock has only advanced 5%. But as inflation backs off and the market rally broadens, KR could be a winner.
DraftKings (DKNG)
I didn't just pick this stock because football season is back. Online sports gambling company DraftKings (NASDAQ:DKNG) is the type of fast-growing start-up company that benefits when interest rates are lower, which will come as inflation backs off. Heavily indebted companies chasing market share at the expense of profits tend to get clobbered when interest rates rise. That's because it negatively impacts their debt servicing charges and ability to borrow — ultimately slowing their growth.
DKNG did indeed suffer when the market peaked in November 2021, and a bear market took hold. But after plunging 82%, the company's shares are now recovering and marching higher. The rebound is partly due to DraftKings' aggressive expansion in the ever-growing world of sports betting. It's also due to growing expectations for inflation to retreat and interest rates to peak. The company's stock has also been given a boost by a surprise Q2 profit. So far in 2023, DKNG increased nearly 170%.
On the date of publication, Joel Baglole did not hold (either directly or indirectly) any positions in the securities mentioned in this article. The opinions expressed in this article are those of the writer, subject to the InvestorPlace.com Publishing Guidelines.